90% of innovation in automobile industry is driven by electronics and software according to IEEE New York Monitor. It is not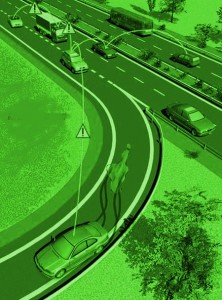 surprising to find that all leading software giant,IBM, Microsoft,Google and Cisco have plunged headlong into the automotive sector. The major development seems to be centered around the concept of ECS – Electronics and Control Software to make commutation less hazardous and free of traffic snarls. Although GPS-based navigation systems,smartphone apps with real-time traffic updates are already in use,traffic congestion haven't decreased. In fact, a study reports that an average American spent 34 hours in traffic,costing $808 in 2009, the total loss caused by gridlock was placed at $115 billion!
Although the study cited above was conducted in the USA,the finding can be related to other countries too,which explains why automobile companies are going for complex software to make cars safer and more efficient. Automobiles that can be managed with the help of smartphone apps (such as Chevrolet Volt whose energy level can be monitored by a smartphone app ) are already in use. Microsoft and Toyota are collaborating to network Toyota cars with Microft's Azure cloud computing platform to bring telecommunications and GPS data, multimedia content and battery management capabilities. If features like streaming music and infotainment in general are introduced, can social networking be far ? Especially after the success of location-based social apps like Foursquare and Latitude which are really helpful when you are in a new city and chances are, when you are entering a new city, you would be in your own car. Apps that quickly find your places of interest or locate your friends and create best routes to reach them would be cool.
As a matter of fact, Ford did test run a tweeting car, a Ford Fiesta with cloud connectivity to explore how car safety and efficiency can be enhanced with cloud connectivity. The cloud-based car apps on a road trip labeled "American Journey 2.0 was able to to tweet, use Foursquare to locate nearby restaurants, gas stations and parks and even auto-blog (pun strongly intended).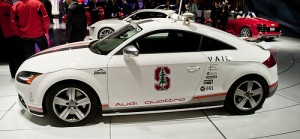 However the latest frontier is that of vehicular communication or cars that "talk" to each other and with the grid and autonomous/ semi-autonomous cars. Many automobile companies are at various stages, developing these "autonomous cars". German researchers have developed a car that can be controlled by thought while Virginia University students have developed a car that the blind can drive. Audi show cased its autonomous vehicle technology by letting its robotic car TTS successfuly complete a race to a peak through a rough terrain and of course, without a driver at the wheels.Volvo's S60have been part of the first successful road train or platooning setup where the semi-autonomous cars have been programmed to follow the lead car by monitoring its speed,direction and distance.  Google's autonomous cars that use artificial intelligence software to mimic human behavior have accumulated 14000 miles and are some of the best examples self-driving cars.
But large scale implementation seems more likely to be  on the lines of the Ford model that uses wi-fi signals to talk with other cars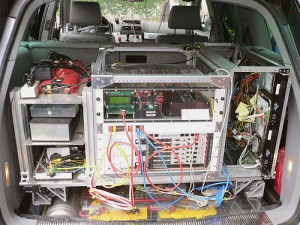 and has shown crash avoidance system using wi-fi signals,emitted 10 times a second and GPS data to communicate with the other car 900 feet away. In contrast to the current crash avoidance systems that use radar and require a a straight line to detect hazards,wi-fi and GPS mechanism provide a 360-degree visibility and are hence considerably advanced.  With the ability to communicate with other vehicles as well as  surrounding infrastructure, these "intelligent cars" can make commutation far more safer and efficient by sharing real-time data on traffic,speed,weather condition etc.  In fact the US Department  of  Transportation believes that that vehicle-to-vehicle communication has "potential to save a lot of lives" and has launched the Connected Vehicle Technology Challenge.
Of course, every new technology brings with it, its scope of being misused or exploited. How well the security measures are implemented would be crucial not just from the individual/ owner's perspective but  from the social perspective also. Last year we saw attack on real time systems in the form of the worm called Stuxnet. One of the most sophisticated cyber-attacks in the history of computing, the Stuxnet worm was successful in sabotaging one of Iran's nuclear plants and was one of the first instances of such a sophisticated  attack targeting industrial software. Though not identical, parallels can be drawn between the systems on the role software plays in both and the damage that can be caused by subverting it.  Apart from that, there are also threats of rogue hackers breaking into networks and causing havoc. In March 2010, more than 100 of drivers found their cars unusable or honking after a disgruntled former employee thought of taking revenge by abusing the web-based vehicle-immobilization system normally used to get the attention of consumers delinquent in their auto payments.  This was just an example, a terrorist or a psychopath is unlikely to be contented with that, the likely scenario is nightmarish.