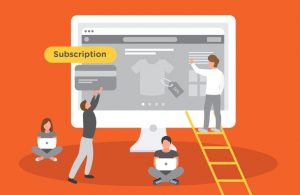 In recent years, the membership/ subscription model in e commerce has become increasingly popular among businesses across the board. Platforms such as Netflix, Amazon, and Spotify are some examples that have tremendously benefited from the subscription-based model. The subscription-based pricing strategy is seen as a way to attract and retain customers by providing incentives such as discounts, loyalty programs, and early access to products or services.
According to Gartner, by the end of 2023, 75% of organizations selling direct-to-customers will adopt a subscription-based pricing model. From these numbers, one can easily conclude that the subscription model is here to stay.
But why are businesses so keen on adopting this pricing model?
In this article, we will discuss the effectiveness of the membership/ subscription model and some of the challenges businesses can face while adapting to this model.
Benefits of a Membership/ Subscription Model in E Commerce
Accurate Revenue Prediction
Subscription-based businesses can accurately forecast their revenues and profits as they receive a relatively consistent level of income from the customers. This allows them to plan their operational, marketing, and development costs better.
Additionally, since the customers purchase their products at a regular cadence, the pricing model businesses can also better manage their inventory.
Reduce Customer Acquisition Costs
The cost of acquiring new customers is continuously increasing, with Harvard Business Review estimating that customer acquisition can be about 15 times more expensive than retaining a customer. The average customer acquisition cost, or CAC, for ecommerce businesses, is around $45 per customer.
The membership model allows businesses to build long-term relationships with already existing customers. This way, companies can focus on customer referral programs and word-of-mouth marketing, which is less expensive than paid marketing campaigns and result in a reduced CAC and increased profits.
Higher Customer Retention Ratio
The ecommerce subscription model offers businesses opportunities to improve their customer retention ratio. With this pricing strategy, businesses can offer exclusive incentives and rewards that encourage subscribers to stay longer with the platform and provide a more personalized service to their customers.
For example, Stitch Fix, an online fashion company that offers a subscription-based model, asks its customers a few questions about their clothing style at the time of onboarding and recommends clothing items accordingly. This way, customers receive personalized outfits tailored to their individual needs, which improves the customer experience on the platform and results in a better retention rate.
LTV, or Lifetime Value, is an important metric for ecommerce stores that measures how much a customer spends in their entire life on the platform. Studies have shown that the platform that offers subscriptions can increase their LTV by 230%. This is due to the fact that subscription business models are more focused on providing consistent value over an extended period of time to their customers.
Higher Customer Engagement
For businesses with a one-time product purchase mode, it takes significant effort, strategizing, and investment to engage customers with the brand. However, if a customer has subscribed to a business, it means they found value in the products and services of the brand and are interested to hear more from them. This makes it easier for companies to engage with the subscribers and also encourages them to use the platform more frequently.
Challenges with the Subscription Model
From the above benefits, we can see that the subscription/membership model is an effective way to scale your business and generate more revenue. However, ecommerce businesses can face several technical challenges while adopting this pricing strategy on their platform.
Subscription Customer Management
Usually, subscription-based businesses have several customers visiting the platform at the same time. It can be challenging to manage customers' orders, purchase history, billing information, and communications needs with a dated system. This can lead to inaccurate customer data and result in poor customer experience.
Flexible Subscription Options
Subscriptions are often tailored to fit the customer's needs. Offering flexible subscription plans is a great way to attract more customers; however, it also comes with its challenges, such as added complexity in billing and inventory management system integration.
Security Threats
According to studies, the ecommerce industry is currently facing 32.4% of all successful cybersecurity threats annually, making it essential for such businesses to be well-equipped with appropriate tools to avert such threats. This is especially crucial for businesses with a subscription model, as they consist of customers making recurring payments at once. If appropriate measures are not taken to ensure the safety of each payment gateway, it can make the platform vulnerable to attacks. Subscription businesses must invest in advanced security technologies to provide secure payment gateways and protect customers' data and privacy.
Failed Transactions Management
For businesses with a significant number of subscribers, it can be difficult to notice when transactions fail. Furthermore, manually going through customer records and identifying failed transactions can be a time-consuming task. Subscription businesses need an effective system to send alerts about such incidents and take prompt action.
Conclusion
The membership/ subscription model in e commerce has proven to be an effective pricing strategy for ecommerce stores and other businesses. It allows businesses to increase their customer loyalty and lifetime value while reducing costs associated with an acquisition. Overall, it is a great option for any business that is looking to build long-term relationships with its customers and drive more sales.
However, adapting to a subscription model also comes with its own set of challenges, which, if not addressed, can lead to poor customer experience and, eventually, loss of subscribers.
We provide e commerce software development services, assist businesses in navigating these challenges and creating a customer-centric ecommerce platform. We leverage cutting-edge technologies to address the pain points and provide a solution that is tailored to your business
Visit Mindfire Solutions to learn more about us.