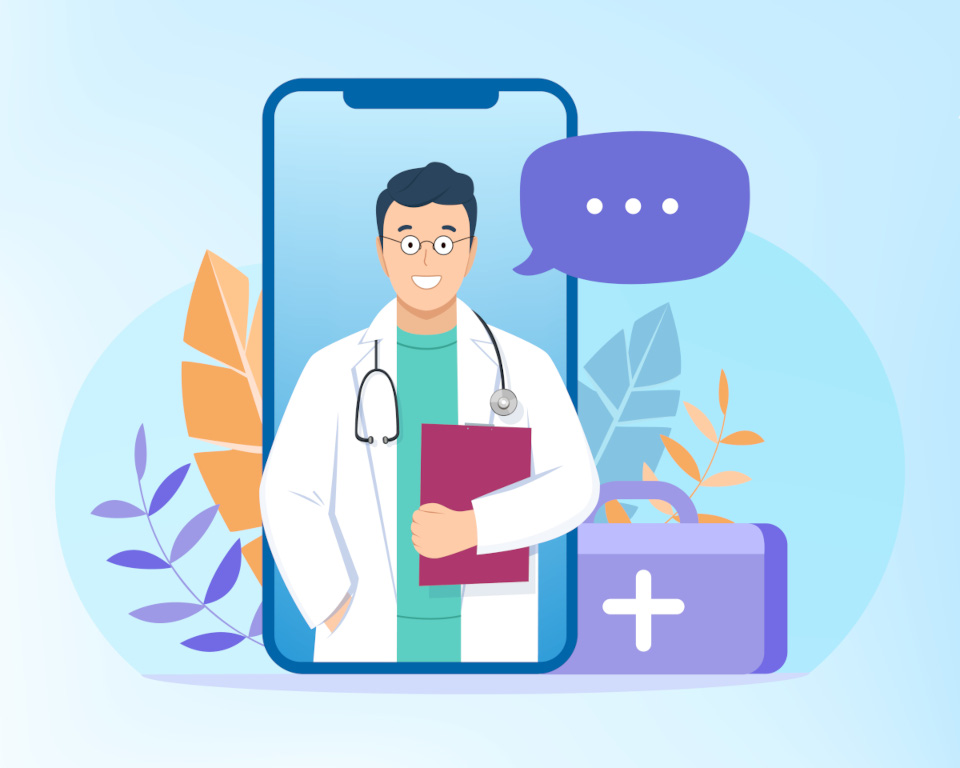 Mobile health or mHealth solutions are transforming the healthcare industry. From mobile applications that allow for remote monitoring and diagnosis to wearable devices that provide real-time data about a patient's vital signs, mHealth is changing how we think about healthcare delivery.
According to recent research, the revenue of the global mHealth solutions market is estimated to be $119.5 billion and is expected to grow at a CAGR of 27% to reach a value of $395 billion by 2028.
While there are many potential benefits associated with integrating mHealth into clinical practice, there are also numerous barriers that must be overcome in order for these technologies to reach their full potential.
In this blog post, we will explore both the opportunities and challenges associated with incorporating mHealth into clinical practice.
……………………………………………………………………………………………………
Opportunities 
Improved Patient Engagement: mHealth solutions can help patients become more engaged in their own healthcare by providing them with real-time access to their health data. Patients can use these tools to monitor their vital signs, track their medication adherence, and access educational resources. This can lead to improved health outcomes and reduced healthcare costs.
Remote Monitoring: With mHealth solutions, healthcare providers can make medical care more accessible for patients. The technology can be used to remotely monitor patients who have chronic conditions or are recovering from surgery, reducing the need for in-person visits and enabling healthcare professionals to intervene early if there are any concerns.
Enhanced Data Collection: mHealth solutions can enable healthcare professionals to collect more comprehensive data about patients' health status. Clinical decision support systems (CDSS) are one example of how mHealth can provide data-driven care. CDSSs use predictive analytics and machine learning algorithms to interpret data from multiple sources and offer meaningful insights and advice, allowing healthcare providers to be more efficient in their patient care. This data can be used to identify trends and patterns and to develop more personalized treatment plans.
Increased Efficiency: Healthcare professionals can streamline clinical workflows and reduce administrative burdens by incorporating mHealth solutions, which can enable them to focus more on patient care. For example, mHealth solutions can automate appointment scheduling, provide electronic prescription management, and reduce paperwork.
……………………………………………………………………………………………………
Barriers
Privacy and Security Concerns:  The collection and use of patient health data by mHealth solutions raise significant privacy and security concerns. Healthcare providers must ensure that patient data is stored securely and in compliance with privacy regulations.
Lack of Standardization: The lack of industry standards for mHealth systems can make it difficult for healthcare providers to integrate various different technologies into their existing workflows. Without standardized data formats and protocols, it can be challenging to ensure interoperability and data accuracy.
Technical Challenges: The integration of mHealth solutions into clinical practice requires technical expertise and infrastructure. Healthcare providers need to have the necessary hardware, software, and network capabilities in order to effectively use mHealth solutions.
Resistance to Change: The integration of mHealth solutions into clinical practice requires a cultural shift. Healthcare professionals will have to embrace new ways of working. This can be challenging for healthcare organizations, particularly those already burdened with the challenges of less-than-adequate manpower and lengthy decision-making procedures.
……………………………………………………………………………………………………
Overcoming Barriers
Invest in Infrastructure: Healthcare organizations should invest in the necessary infrastructure to support the integration of mHealth solutions. This may include upgrading hardware and software systems, investing in secure network capabilities, and training staff on how to use new technologies.
Develop Standards: Establishing and adhering to standards for mHealth systems can help to ensure data accuracy and compliance with privacy regulations. Healthcare organizations should look to develop standard protocols and data formats that are compatible with their existing systems. This process can involve working with government agencies and other stakeholders to establish guidelines.
Educate Healthcare Professionals: Encouraging healthcare professionals to embrace new technologies can be the key to the successful integration of mHealth solutions. Educating them on the benefits of leveraging mHealth solutions in clinical practices, and training them on using it effectively is essential.
Collaborate with Patients: Establishing open communication with patients and involving them in the process of integrating mHealth solutions into clinical practice can help to build trust and increase patient engagement. Encourage healthcare professionals to engage patients in discussions about their care.
    ……………………………………………………………………………………………………
Conclusion
The integration of mHealth into clinical practice offers many opportunities for improving healthcare delivery and outcomes. However, there are also significant barriers that must be overcome in order to make the most of these benefits. As technology continues to advance, it is important that healthcare organizations remain agile and adaptive, ready to embrace new tools and services that can improve patient outcomes and reduce costs.
At Mindfire Solutions, we understand the challenges associated with integrating mHealth solutions into clinical practices. Our team of experienced developers is committed to helping healthcare organizations navigate the complexity and uncertainty of introducing new technologies in their workflows. We are dedicated to developing robust, secure, and intuitive mHealth solutions that meet the needs of your healthcare organization.
Take a peek at our expertise to know how we can assist you to take your services to the next level.