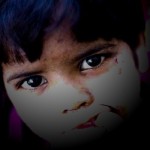 It was the night of 20th September 2011 and I was returning home after attending a party at a friend's place in Saheed Nagar. My friend's sister got a job in TCS which made him invite some of the close friends in our group for a party at their home only. My phone started ringing right from the evening.After at least 15 calls from different friends and explaining  them that I had some work to finish,finally I left office at around 8 o'clock. All of my friends already reached and were having a great time. By the time the food was ready we started gossipping and rewinding the happy college days. Finally got the call from aunty "Dinner is Ready". The food was prepared by my friend's mom and sister and as it was utterly delicious,all of us had a nice dinner filled up till the neck.After a small chat when we decided to leave,it started raining heavily. At the request by uncle and Manas(my friend) few of us decided to wait till the rain stopped or at least slowed down a bit.Few lwft as they used to stay nearby.
It was almost 11.30 pm when the rain stopped and we friend's finally headed back home. By the time I reached the Janpath(the road that connects Vanivihar and Master Canteen square),hardly I could see anyone on the road.The weather became bit chilly and because of the rain,the number of vehicles had already reduced.I was riding my bike and suddenly I found something moving near the walls of the Satyanagar crematorium.The 1st thought that came into my mind was did I really see something or was it just an illusion? I slowed down the bike to have a look. When I went bit closer I found a small boy playing on the piles of boulders and sand. Questions started flooding my mind –  "Am I seeing a ghost??","Is it real?","Do ghosts exist?" and many more. Then I thought let me just go and enquire.
When I got down from my bike,the little boy saw me and ran away trying to hide behind the pile of boulders.I went near him and called him calmly saying it repeatedly that I would not do any harm.Fortunately I had a toffee in my pocket and after showing it to him and telling him that I would give it to him if he would come and talk,he started coming nearer slowly. When he came nearer I found him to be a boy aged between 3 to 5 years wearing a half pant and a torn t-shirt which definitely belonged to someone who is double of his age. "Are you a Policeman?" was the first question from the boy and the question itself was surprising as I did not even wear something similar to a uniform. Then I noticed that he was looking at the white Apache RTR bike which I borrowed from my friend as my bike did not start after the rains. "No No,I am not a policeman",I replied."You will not tie me up and take to the police station,right?" was the second question from him. I started smiling at these questions.When he saw me smiling perhaps he gained some confidence and the toffee in my hand added to it. He came to me slowly and took the toffee. "What is your name beta?" I asked. "Abdul" was the short answer from the boy as he was busy unwrapping the toffee and thus all the concentration was on the toffee,not on my question."I am not able to open it.Can you open this for me?" he asked in an eager voice. "Sure,why not?" I replied as I took the toffee and unwrapped it for him.While doing so I  saw the happiness in his bright and glowing eyes.He literally snatched the toffee as soon as it was unwrapped and put it in his mouth instantly as if someone would demand a part of it he does not put it in ASAP. "What are you doing here?"."I came to meet maa". I was bit relieved thinking that he is not alone and his mother should be somewhere nearby. I started looking around to find her but in vain. "Where is your mother?",I asked. He simply pointed towards the crematorium. I could not make out anything of it and asked "What is she doing there?". "I don't know.Four days ago she was sleeping when my father and some other people brought her here and they put her on woods and burnt the woods.She did not return. I asked father where is she and why she is not returning and he replied she would not return any more. Today father returned home drunk and beat me. I came running to maa." I was stunned with his answer. My lips were zipped and my brain stopped working. I was standing there totally clueless what to do and what to tell the boy."Where do you stay beta?", I asked. "Near the three cinema halls".I figured out that he stays somewhere nearby the CineComplex. "Would you like to have a bike-ride?",I asked. He said "YES" with all his enthusiasm and again said in a suspecting voice "You are not a policeman and you will not take me to the police station,right?". I just nodded my head and he came, ready for a bike ride. As we reached the CineComplex, he found someone he knew and while handing him over to the person, I asked "Aren't you people worried about your kids?". In the reply he said ,"What to do sir?If we start looking after them then who will look into our work? They are all destiny's children. "Jab tak zinda rehna hai rahenge,Jis din time puraa ho jaayega mar jayenge". While my ears were listening to the man's words,my eyes were still fixed upon Abdul.He was slowly moving away singing a song from the recently released movie without a single sign of fear or grief on his face. Perhaps the visit to the place where he saw his mother for the last time filled his little heart with joy and made him forget the beating from his father in the evening.
While going to bed that night I kept on thinking about him and and about our lives.We all got  parents who were caring about us.They have taken all the pain to make us happy whereas Abdul's father hit the small kid like an animal. We all studied in good schools,got access to good libraries.He does not even know or might not be able to figure out ever what is the environment at a school is.While we all enjoy movies in AC theatres with a pack of pop corn in a hand and a cold drink can in the other,he has access only to the songs played in the loud speakers.We all have bikes or cars,he had to run at least 1.5 kms to get saved from his father.Despite of all the above things we still complain.Yes, I agree that human needs are unlimited. Desires cannot be satisfied to the fullest.But are we not in a better condition that hundreds of Abduls?
Whenever I remember the lines from the person to whom I handed him over that night "Jab tak zinda rehna hai rahenge,Jis din time puraa ho jaayega mar jayenge", it makes me ask a question to myself :
"ARE NOT WE BLESSED ???"