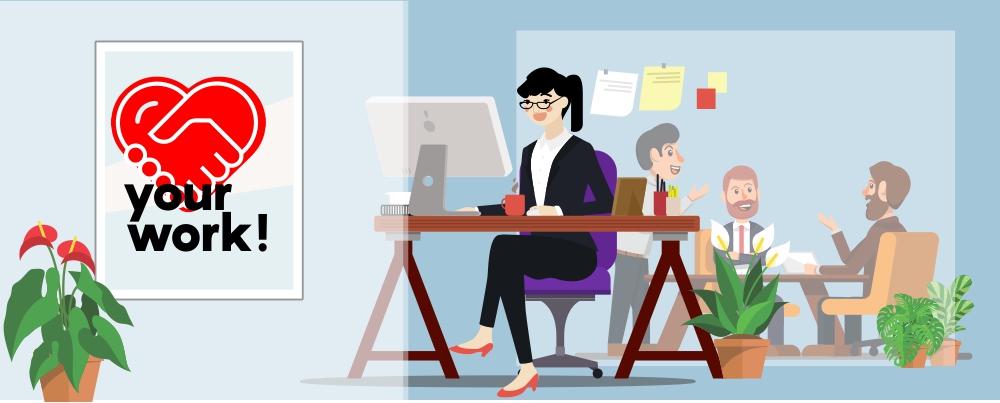 Among all the mysteries that is there in the world, the one that conquers everyone's mind is the fact that "Why work is always tiring?". Whether you ask a kid about his homework, or a teacher about his classes, or a plumber, a carpenter, an electrician, a shopkeeper, a judge, an engineer or any HR person, each and everyone will agree to the point that their work is tiring. The level of loving work and getting bored of it varies from person to person.The golden thread that binds a person and his/her work is the love for work. If you love your work, you will nail it.
It is not what path that you take,rather it is the will that you make, decides your love for work.Instead of complaining, love it and live with it! – Neha Ambasta
Going back to the school days you'll find that drawing classes and PT classes always used to bring smile over our face, they were also classes, but as we loved it, we did well in such classes. Similar is the case of any work in any profession, when you start loving the work, you'll do it perfectly with all your potential. Of course there always lies a motivation in doing anything. And that motivation and love together pushes a person to accomplish the work without tiredness.
Make it Passion
A senior colleague once told me: Don't make your career around money, make it around knowledge, money will automatically come with it one day.
He was right and looking at all the prospects, I felt his words were worth changing the path of my career. Generate a passion for the work you have to do and see how time flies completing the work. At the end of the day when you see that your work is completed in time and with perfection, it soothes the brain like spa for the body. That is the greatest satisfaction you can ever obtain from life.
Stop Complaining, do it happily
You have got one life to live, live it either criticizing your work, hereby living a monotonous and complaining life, or you can live your life by loving the work that you have been assigned to do, thereby training yourself for happiness.
You are capable of greatness don't confuse yourself with "I can't do.". You can create a glorious life, if you choose to love your work.Work will be an adventure for you, and when you will go to bed after doing your work happily, you will feel that the pain that body got while doing the work is also refreshing.
Happiness ripple works
Yes, you read right.Happiness is like ripple, it will come to you once you have created the ripple.Make yourself comfortable with the work, you will surely get satisfied after completing it.That happiness will push you towards your work. When I am happy, I do all the stuffs with the cent percent potential. Sometimes I am submerged in my work and still I can't find myself worried and tired. It mostly happens when I am doing the work I love to do.
Create a motivating environment around you when you embark upon something difficult 
Environment also matters for healthy work. A work place like mine will surely motivate one for work:
Sitting on the blue and black chairs they are working,
working endlessly, rigorously, to learn, to build, to earn,
to earn not only money, but also knowledge and attitude,
knowledge which is power and attitude which is controller of the knowledge.
They are the people of Mindfire.
Environment is the backbone for them,
the coffee, the bean bags, the colleagues, the monthly parties
act as fuel for them.
They try, they fall but the best thing is that
they start over again and then they win!
They are the people of Mindfire.
When such environment is not available, create them and motivate yourself for working.
Scribble positive affirmations
Affirmation which I make to generate love for the work:
It is my responsibility to do it and I will learn a lot from this, which will help me building a better future.

Complete this, you will get a better work after this.

Work hard now, don't leave anything for regret!

Will travel to a good place after sometime. (promises :p)
Take a choice, be a better one. Compare yourself with the you who "was" and the one who you "are". And take an action for the person who you "will be". Compete with yourself!
Love your work!