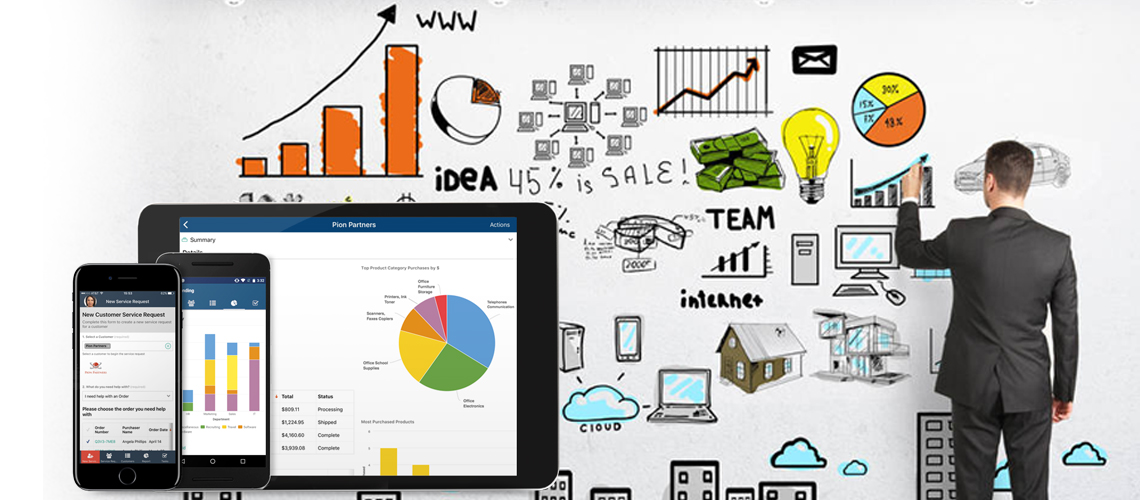 An enterprise mobile app will help you to solve specific business problems, improve business processes, and make employees productive. But enterprise mobile app development is more complex that consumer centric app development. In addition to identifying and defining your business requirements, you need to explore ways to make the app accessible across devices, platforms, and networks. Also, you have to ensure that the app allows employees to access and store corporate data securely, while being compatible with the existing software systems and solutions.  At the same time, you also need to keep in mind a number of facts to simplify and accelerate enterprise mobile app development.
7 Important Enterprise Mobile App Development Facts for Business Owners
1) App Must Meet Your Precise Business Needs
Unlike consumer facing mobile apps, an enterprise mobile app needs to solve specific business problems or meet precise business needs. Hence, you must identify and define your business needs clearly and precisely to accomplish predefined business goals. It is always important to spend some time in identifying your needs and customize the mobile app according to the precise needs. You can further reduce both mobile app development time and cost by conveying business needs clearly to the developers and testers.
2) Don't Copy Features from Other Enterprise Mobile Apps
You can easily develop a mobile app with features borrowed from similar mobile apps. But you must remember that the business needs of individual enterprises differ despite belonging to the same sector. The features provided by similar enterprise mobile apps may not be relevant for your employees or solve the exact business problem. Instead of copying features from similar enterprise mobile apps, you must identify the features and functionality required to customize the app according to your precise business needs.
3) Enhance Your Organization's BYOD Policy
The Bring Your Own Devices (BYOD) policy enables your employees to access company data and perform business operation on their personal mobile devices. Some employees can even take advantage of the BYOD policy to work more flexibly from their preferred locations. But you must remember that the choice of mobile device and platform differs from one employee to another. Likewise, the employees can access the enterprise mobile app over various networks. While making the enterprise mobile app development strategy, you must explore ways to enhance the BYOD policy and enable employees to coordinate with each other seamlessly.
4) Make the App Available and Accessible to Each Employee
As noted earlier, employee will access the same enterprise mobile app across varying devices, platforms, and networks. Hence, your enterprise mobile app development strategy must target multiple devices and platforms. At the same time, the strategy also needs to explore ways to make the mobile app accessible on slow or no internet connectivity. You can always consider making the app available on multiple mobile platforms and design the user interface (UI) by targeting varying devices. Likewise, you need to enhance the app's accessibility by taking advantage of the network connectivity capabilities of mobile devices like Bluetooth, GPS, Wi-Fi and 3G/4G.
5) Improve the App's Usability and User Experience
Several studies suggest that modern users abandon mobile apps after one use. There are always chances that the employees may not use the enterprise mobile app regularly if it is complex. The enterprise mobile app development strategy must clearly define the problems to be solved and challenged to be addressed by the mobile app. At the same time, it is also important for the enterprise mobile apps to deliver optimal user experience. The richer user experience delivered by the application will persuade employees to use it regularly to perform specific tasks or solve specific problems. You can even consider developing multiple enterprise mobile apps – sales support, internal communication and training – cater varying needs of individual teams.
6) Explore Ways to Keep Your Business Data Secure
The enterprise mobile app will make it easier for employees to access corporate data on their own devices. With multiple employees accessing business data on their personal devices, the chances of security attacks increase. The hackers can execute targeted malware attacks to access sensitive business data and customer experience by taking advantage of the vulnerabilities in devices of employees. Hence, you need to include robust security features in the enterprise app to prevent targeted security attacks and keep business data secure. Also, you need to ensure that all sensitive business data remain encrypted and the employees access the app only on secure networks.
7) Don't Ignore the Latest Technologies and Trends
The mobile app development trends keep changing from time to time. You cannot keep the enterprise mobile app popular and relevant over a period of time without implementing the latest trends and using the latest technologies. For instance, while making the enterprise mobile app development strategy, you must keep in mind emerging trends like artificial intelligence (AI), machine learning, virtual reality (VR), augmented reality (AR), Internet of Things (IoT), and location based services. The latest mobile app development technologies and trends will help you to improve the enterprise mobile app's functionality and user experience. At the same time, the employees can use the enterprise mobile app to solve business problems over a longer period of time.
On the whole, you can always keep in mind a number of enterprise mobile app development facts to build a custom mobile app that meets your precise business needs and deliver optimal user experience. But you must remember that the trends in both enterprise and consumer facing mobile app development keep changing from time to time. Hence, your mobile app development strategy needs to implement the latest mobile app development facts and trends.