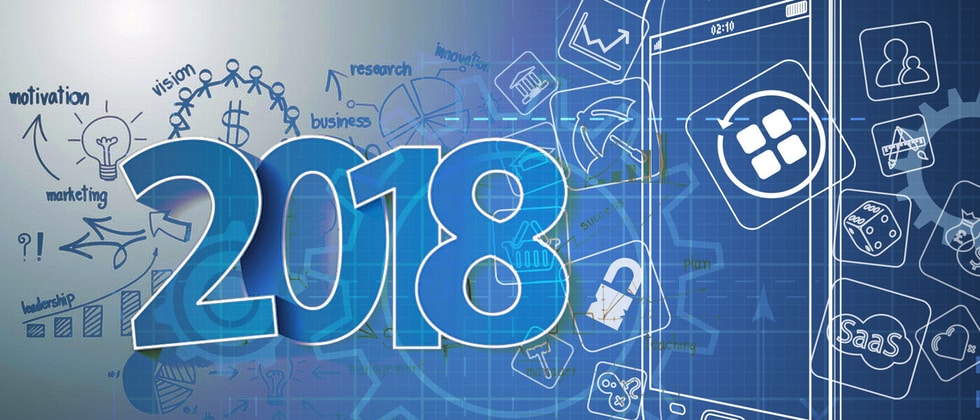 Recently, Google revealed the list of most downloaded Android apps for 2017. Surprisingly, the most downloaded apps list for Android platform does not include popular mobile apps like Facebook and WhatsApp. The list includes a number of apps that many Android device users have not heard of. The list will encourage many app developers to launch new mobile apps with out-of-box features and outstanding user experience in 2018. However, the developers also need to adopt the emerging mobile app development trends to accomplish more downloads and generate revenue.
10 Mobile App Development Trends to Look for in 2018
1) Artificial Intelligence (AI)
AI has the capability to transform both consumer-facing and enterprise app development in 2018. Most developers will leverage AI technologies to enhance mobile app's capabilities and user experience. AI will further help developers to make apps that can be used as a robust tool to access real-time insights through machine learning technologies, advanced analytics, and cognitive interfaces. At the same time, developers can also use AI to create intelligent apps for the Internet of Things (IoT) age.
2) Augmented Reality (AR) and Virtual Reality (VR)
At present, AR and VR are used widely for development of gaming and entertainment apps. The developers use AR to deliver a live view of the real-world environment and VR to recreate real-life situations or environment. With major tech companies increasing investment in AR and VR projects, the demand for the technologies will surge in 2018. Most developers will explore ways to create innovative apps by leveraging AR and VR. VR will be used widely for development of games, whereas AR will be used for developing enterprise apps for various industries – healthcare, retail, real estate, and engineering.
3) Machine Learning
The latest versions of iOS and Android leverage machine learning to deliver richer and personalized user experience. Many app developers will leverage machine learning algorithms in 2018 to make their mobile apps standout in the crowd. They will use machine learning algorithms to analyze huge volumes of data collected from various sources, recognize complex patterns, and draw useful insights. The algorithms will help developers to create predictive apps that automate complex tasks or processes huge amount of data.
4) Blockchain
Within a short span of time, blockchain has become hugely popular as the infrastructure behind Bitcoins. But blockchain will be used widely by developers as an incorruptible digital ledger in 2018 while developing financial apps. They will leverage the shared and incorruptible digital ledger to list a variety of financial transactions and record transaction history. While doing enterprise mobile app development, developers will use blockchain to enhance the security of the app and data by eliminating chances of data tampering. They will further customize blockchain to record a variety of sensitive and valuable transactions.
5) Cloud Technologies
A steady increase is being noted in the number of enterprises developing, testing, and deploying mobile apps in the cloud. The cloud technologies further enable small businesses and start-ups to launch and manage mobile apps smoothly without investing in physical infrastructure. The cloud technologies will remain one of the important mobile app development trends in 2018. The developers will further leverage cloud technologies to create mobile apps that interact with users over the internet by overcoming internal memory constraints. They can further improve the performance of a mobile app significantly by making it fetch data directly from the cloud.
6) On-Demand Service Delivery
Within a short span of time, on-demand apps have become an integral part of modern lifestyle. Many users nowadays use on-demand apps to avail a variety of services – taxi, food delivery, laundry, cleaning and beauty. They even prefer on-demand apps to conventional mobile apps to avail required services in a quick and convenient way, while availing easy payment options. The massive popularity of on-demand apps will persuade many enterprises to boost revenue by delivering on-demand services to customers in 2018. On-Demand mobile app development will be in huge demand in 2018 and beyond.
7) Accelerated Mobile Pages (AMP)
Google has made it easier for developers to make web pages accessible on various devices seamlessly and quickly by launching the AMP project. Many web developers nowadays leverage AMP to make web pages accessible on varying mobile devices and platforms. AMP further improves page loading speed drastically and reduces bounce rate regularly. A developer can also use AMP to increase visitors, accelerate content replacement, enhance ad visibility, and facilitate mobile search. The mobile developers will leverage AMP to boost the user experience of web-based cross-platform mobile apps.
8) IoT and Wearables
In 2018, two technologies will change the way mobile apps are developed – Internet of Things (IoT) and wearable devices. At present, users do not have option install app directly on their wearable devices. But both watchOS and Android Wear enable users to pair their wearable devices with a variety of devices and equipments. Hence, developers have to create new apps to enhance the capability of wearable devices and interact with other devices. At the same time, the machine-to-machine communication facilitated by IoT will make developers to create mobile apps that deliver unified user experience by exchanging data with a variety of connected devices.
9) Cyber Security
Most users nowadays store a variety of personal information and resources on their mobile devices. Likewise, they also access both personal and corporate data on the same devices. Hence, developers have to explore ways to keep the mobile app and data secure while developing consumer-facing and enterprise mobile apps. In addition to developing the app with in-built security features, they also need to keep the data secure by using robust encryption mechanisms. At the same time, many developers will switch from Objective-C to Swift or Java to Kotlin to take advantage of the advanced security features provided by the modern programming languages.
10) Hybrid App Development Tools
Often developers have to put extra time and effort to build native apps for multiple platforms. For instance, they have to use Objective-C or Swift for iOS app development or use Kotlin for Android app development. Also, they have to focus on app store approval process and discoverability. These tools enable developers to build cross-platform mobile apps with a single and shared code base written in a single programming language. The robust cross platform mobile app development tools like Xamarin further help developers to make the app deliver native user experience on iOS, Android, and Windows Mobile by accessing the native UI and APIs. These hybrid app development tools will make many enterprises opt for hybrid app development instead of native app development in 2018.
On the whole, a developer has to adopt a number of emerging mobile app development trends to make his mobile app popular, profitable, and relevant in 2018. But he must remember that disruptive technologies always create new trends and transform development process. Hence, the smarter developers always watch out for such unexpected changes in mobile app development trends.