The cloud has revolutionized the way we live and work. It has brought about a new era of flexibility and convenience, allowing us to access information and collaborate with others from anywhere in the world.
According to a Gartner survey, global spending on cloud services is projected to reach over $482 billion this year (2022). The numbers are much higher than those recorded last year, i.e., $313 billion.
Now, healthcare providers are taking advantage of this technology to improve patient care coordination. Adoption of Cloud Computing in Healthcare with Cloud-based applications can help healthcare organizations manage patients more effectively, share important data in a secured manner, and reduce costs.
Let's first get on with the basics of cloud computing and move on to the benefits of cloud computing in healthcare.
What is Cloud Computing?
Cloud computing is the delivery of computing services—including servers, storage, databases, networking, software, analytics, and intelligence—over the Internet ("the cloud") to offer faster innovation, flexible resources, and economies of scale. 
Cloud computing is a model for enabling ubiquitous, convenient, on-demand network access to a shared pool of configurable computing resources (e.g., networks, servers, storage, applications, and services). This technology allows organizations to quickly scale up or down as needed and pay only for the resources they use.
It has many advantages over traditional on-premise IT infrastructure. With cloud computing, businesses can be more agile and responsive to change because they can provision new resources in minutes or hours instead of weeks or months.
Cloud computing offers greater scalability and enables businesses to scale up or down as they please, without having to make huge capital investments as they are required to pay only for the resources they use.
Cloud Computing in Healthcare
The healthcare industry is in a state of flux. With the ever-changing landscape of regulations, the increasing costs of care and the shift to value-based reimbursement models, healthcare organizations are looking for ways to cut costs and improve efficiency. One way they're doing this is by adopting cloud-based solutions.
Cloud computing has already transformed many industries, and healthcare is next on the list. By moving to the cloud, healthcare organizations can reduce IT costs, improve patient care, and drive innovation.
Let's look at how cloud computing is changing healthcare for the better.
One of the biggest benefits of adoption of cloud computing in healthcare is that it can help healthcare organizations reduce their IT costs. With on-premises solutions, organizations have to pay for hardware, software, maintenance, and support. But with cloud-based solutions, they only have to pay for what they use.
Additionally, cloud providers often offer discounts for long-term contracts or for paying upfront. As cloud providers handle maintenance and upgrades, healthcare organizations can further reduce costs.
Another benefit of cloud computing in healthcare is that it can help improve patient care. By moving to the cloud, healthcare organizations can improve collaboration between care team members, ultimately leading to better patient outcomes. 
In addition, patients are increasingly expecting more personalized and convenient care. And with the help of cloud-based solutions like telemedicine and patient portals, they're getting it.
These solutions give patients 24/7 access to their health information and allow them to book appointments, refill prescriptions, and more from the comfort of their homes.
Improving Patient Experience 
Doctors and hospitals now have the ability to increase patient engagement and provide them with anywhere, anytime access to their medical data, test results, and even doctor's notes thanks to adoption of cloud computing in healthcare. This gives patients more power and control, as well as increasing their knowledge of their medical conditions. Furthermore, because doctors can access the history of medical records, it provides a new level of safety for patients, preventing them from being overprescribed or avoiding unnecessary testing. 
Faster Deliver of Time- Critical Medical Services & Impact of Covid19 
Covid19 proved to be a powerful driver of rapid digital transformation across industries. Cloud computing in healthcare is cost-effective and quick to deploy, among other benefits that can be extremely useful, particularly during a pandemic. In many ways, the year 2020 has been unprecedented. Time was critical in combating the pandemic and constructing new hospitals, releasing the vaccine onto the market, and arranging a safe method of mass testing. Cloud computing should be used to help bring important technological solutions to market faster for Time – Critical Medical Services.
Data Security and Privacy 
Security and Privacy of patient data are the two most important factors that matter to healthcare providers and payers or for that matter any other healthcare stakeholder looking at leveraging software systems. All reputed cloud services providers undertake the required measures to ascertain that vulnerability of patient data to potential breach is either negative or as negligible as possible. It is, however, a moving target and it is advisable to hire the services of a reliable and experienced tech solution provider to address this concern while adopting cloud solutions.
Implementation of AI/ML & Access to Analytics for Data Driven Decisions 
Large datasets of patient information from ePHI, IoT devices, and consumer health applications are processed by cloud platforms. Technology can help to promote healthier patient behavior, improve disease detection rates, and aid in advanced diagnosis and decision making. Through data insights and analytics, AI/ML enables healthcare professionals to make data-driven decisions. It has the potential to personalize medicine, improve care, and deliver real-time information to patients and staff. Data from AI/ML is being used to drive innovation. Healthcare providers make better decisions with adopting cloud computing in healthcare, which improves service operations and increases hospital efficiency. Automated analytics provide significant benefits for patient scheduling, background checks, and managing all associated medical records. Data interoperability benefits research programmes by allowing researchers to quickly collect statistics from a diverse range of patients.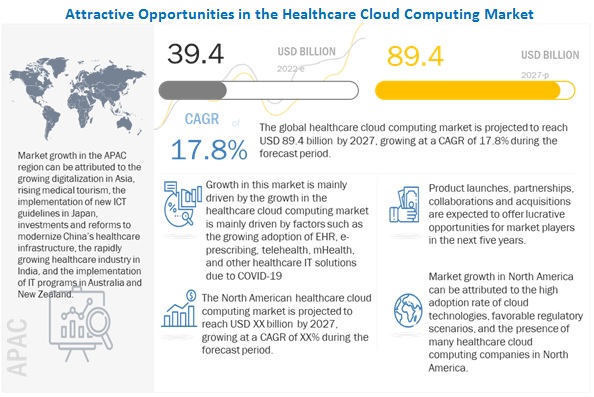 Cloud Computing Makes Patient Care Coordination Easier
There is no denying that technology has revolutionized the healthcare industry. One of the most significant changes has been the move from paper-based systems to electronic health records (EHRs). This shift has resulted in more efficient and coordinated patient care.
However, as anyone who has ever dealt with a complex health issue knows, coordinating care can still be a major challenge. Many players are involved in the care of a single patient, including doctors, nurses, specialists, pharmacists, and others. It is difficult to track all the treatments and medications a patient takes. 
That's where cloud computing comes in.
Cloud computing helps in storing and accessing data online. EHRs are often stored in the cloud, allowing different patient care team members to access them from anywhere at any time. This is a major advantage in coordinating care, as it allows everyone to see a patient's complete medical history real time and in one place.

In addition to making information more readily available, cloud computing also enables sharing with ease large files such as x-rays or MRI scans. This is especially important when patients consult multiple specialists or receive care at different facilities.

In the past, patients would have to provide their records separately to each consulting physician, which was both time-consuming and inconvenient. With cloud computing, patients can give their doctors access to their records with just a few clicks.

Cloud computing in healthcare also makes it easier for doctors to communicate with each other. Earlier, if two doctors needed to discuss a patient's diagnosis or treatment plan, they would have to do so by phone or fax (if they were lucky enough to have access to each other's contact information). With secure cloud messaging platforms, doctors can easily send referrals, consult on cases, and request test results without ever having to pick up the phone.
Conclusion
Cloud computing in healthcare enables the doctors and other members of a patient's care team to communicate and collaborate easily, resulting in more coordinated and efficient patient care. Adoption of cloud computing in healthcare also helps in implementing latest technologies like AI/ML.
If you are stuck with on premise healthcare software systems, now is the time to switch. Not only will you be able to improve patient care coordination, but you'll also reap all the other benefits that a cloud infrastructure can provide you, leading to increased productivity and decreased costs.
If you are looking for a software technical partner who can assist you in developing custom solutions that are cloud-based, or in cloud migration, please reach out to us. With decades of experience, we have the necessary resources to help you achieve your goals. Connect with our experts today.