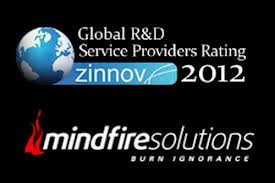 Winning is a special thing. In every aspect of life winning gives a satisfaction, endless happiness and helps  prepare a path by showing a ladder of success to the next level. And of course , winning moments are the best moments in life. It has been more than a year since I am associated with Mindfire Solutions and I feel like a winner. Because being a part of a winning team makes you feel like a winner and Mindfire Solutions is a winner for 2012. It is not just me and my co-workers saying it, leading management consulting firms and industry leaders say it too.
"Mindfire Solutions is on the way into the big league because of its innovation frameworks resulting in tangible benefit to ISV customers worldwide." says Pari Natarajan, CEO, Zinnov. This is the second year in a row when Mindfire features in the prestigious Zinnov Global Service provider rankings. Strong R&D support, sponsoring its people to International and national technical conferences and training programs, investing a lot on its people and constant focus for quality upgradation, Flexible work culture and an upward spiraling innovation curve has made it possible and has shown the way into the big league.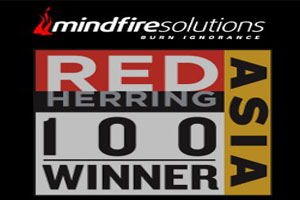 The journey of success does not end here for Mindfire Solutions. Recently Mindfire Solutions also won Prestigious International 2012 Red Herring Top 100 Asia Award. Red Herring, a global media company, which unites the world's best technology innovators, investors & decision makers, announced Mindfire Solutions as winner at the 2012 Red Herring Top 100 Asia Awards ceremony held in Hong Kong on September 12, 2012.
According to Alex Vieux, publisher and CEO of Red Herring "Choosing the companies with the strongest potential was by no means a small feat, After rigorous contemplation and discussion, we narrowed our list down from hundreds of candidates from across Asia to the Top 100 Winners. We believe Mindfire Solutions embodies the vision, drive and innovation that define a successful entrepreneurial venture. Mindfire Solutions should be proud of its accomplishment, as the competition was the strongest it has ever been."
All the achievements above are not just miracle. Every progress has its own price. The vision and guidance of our President & CEO, Chinmoy Panda and selfless dedication of a lot of people whom I can't name explicitly have made it possible. It is the outcome of their hard work and dedication that Mindfire is a winner today. Hope our winning will continue in the future too.
 Finally, when Mindfire wins, everyone wins 🙂

Author – Tapan Kumar Pati