What is ed-tech?
Ed-Tech (or Education Technology) is the area of digital technology devoted to the development and application of any digital tools (be it software, hardware or technological processes), intended to promote Education. Alternatively, it can also be described as a medium aimed at improving learning outcomes by creating and using technology that aids comprehension, cognition and overall academic performance of learners.
An already booming sector since the last 5 years, Covid 19 has provided further impetus to the Ed-Tech sector. While schools and students from around the world experienced initial difficulties in adjusting to digital methods, many have quickly become used to the zoom mode of teaching and learning. With mixed outcomes, the opportunity that Ed-Tech presents in the post Covid world is huge. Its primary advantages include easy accessibility, quality content and engaging new formats to help students retain, practise and apply what they learn.
India:
In India, Ed-Tech remains one of the highly funded domains, second only to financial technology and financial services. As per the Indian Private Equity and Venture Capital Association, startups in Indian EdTech received investment of over $2.2 billion in 2020. Popular courses include delivering subject matter expertise to students from K12 and helping candidates to prepare for competitive exams like IIT-JEE, UPSC and NEET. With the stress on improving job readiness for India's growing youth, many Ed-Tech programs are now focused on providing in-demand skills like coding and social media analytics through varied formats.
As per Pravin Prakash, the Chief People Officer at BYJU's, Indian parents have warmed up to the idea of technology supplementing the traditional mode of learning. Ed-Tech's biggest advantage has been a personalized learning experience for students, in terms of both speed and style. Interactive formats have also encouraged students to become active learners for life with the blended model of learning also preparing students for the unseen jobs of tomorrow.
With growing internet penetration in one of the youngest countries in the world, India will see a bigger boom in Ed-Tech. The industry can play a huge role in democratizing quality education, with a boost in digitization, funding and user growth. With nearly three-quarters of third-graders still unable to solve a two-digit subtraction, EdTech can be the bridge to enable students break the rote learning methods that plague the system besides developing critical abilities of creative thinking, 21st century skills and a well paced learning process.
China: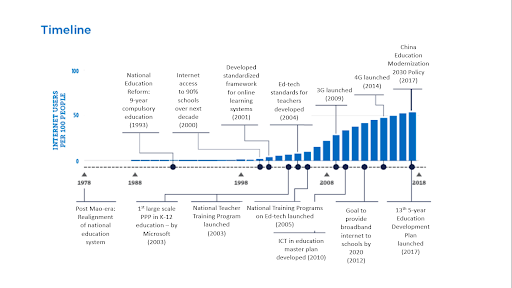 There are many reasons for the exponential growth of the Ed-Tech market in China. Growing aspirations of middle class Chinese parents along with their ability to afford good education are the primary drivers. As per Omidyar Network, the average Chinese parent spends around USD 42, 892.22 over the duration of a child's K-12 schooling. While older parents are more inclined to the traditional mode of teaching, newer parents acknowledge the role of technology.
With the world's largest economy, China boasts of the second largest K-12 network in the world. With a GDP second only to USA, it spends over 4% in Education, annually. In 2019, China catered to 802 million people with internet connectivity, 98% of whom are mobile internet users. As per a 2016 report, 45% of primary schools, 69% of middle schools and 87% of high schools had access to the internet. Connectivity reduced along the city-urban-rural school continuum with a yawning disparity visible between urban primary at 77% internet penetration and rural primary at 26%.
After Covid 19, China has gained control over the Ed-Tech market by making a wide variety of personalised Ed-Tech solutions available to students. An affordable one time payment of < USD 10 and strong internet connectivity has encouraged students, especially from rural areas to embrace online learning. Some of the popular commercial EdTech solutions in China's K-12 market are Onion Math (14 million users), Knowbox (27 million users) and Zuoyebang (113 million registered educational institutes). These platforms provide free of cost services such as assessments, homework management and building subject matter expertise. Platforms such as the Gaokao and Zhonkao have additionally given birth to the USD 50 billion industry of after-school tutoring and test preparation. There are close to 200 million online users in China post the Covid 19 pandemic.
USA:
The widespread and seamless adoption of Ed-Tech in the US today is due to some of the smart federal policy initiatives and an inevitable fallout of "the march of technology" in the lives of the average American.
The US education system comprises 56.6 million students who attend elementary and secondary schools; of these roughly 10% attend private school, 5% attend charter schools and less than 3% are in homeschooling programs. In 2016, 89% of households had access to a digital device and 81% had internet connectivity; Pacific Coast and NorthEast having higher connectivity than other regions. Provision of high-speed Wi-Fi services in classrooms and subsidized rates of internet connectivity at 10 USD/ month has enabled better penetration of online education.
USA market size:
The K-12 EdTech market in the US totaled USD 18 billion in 2017 as per a report by Futuresource Consulting Ltd. This includes hardware, software, IT services, digital courseware and assessments. Large players like Apple, Amazon, Google and Microsoft have been competing for the hegemony of the American EdTech market since the 1990s with disruptive innovations. While the federal and the state governments have partnered to provide high speed internet connectivity to K-12 students, nonprofits like SETDA (State Education Technology Director Association) and the CoSN (Consortium for School Networking) have made useful resources and toolkits available. They have also played a critical role in maintaining the government's EdTech infrastructure – the more critical side of EdTech scaling. Experts from more than 20 EdTech stakeholders find Utah, California, Maine, Rhode Island, New York, North Carolina and Florida to have demonstrated effective EdTech scale ups.
The overarching focus on teacher training and technological innovations have helped transform teaching at scale. Effective legislation to integrate EdTech with the textbook schooling system has also happened. Programs such as the FutureReady schools, initiated under the Obama administration's ConnectEd initiative, have partnered with 50 organizations which include foundations, curriculum developers, internet service providers and education experts to transform the American K-12 network by 2030.
Final thoughts:
The current GDP of the Education industry alone is 6% which by 2025, estimated to grow upto $7.3 T by 2050. More than 250 million learners around the world are unable to read or write properly despite having finished their schooling. Most of them lack the competencies or the skills required to succeed in the 21st Century. The world's poor will take 100 years to achieve educational parity with the wealthy. The big question is how is the current education system poised to deliver their needs?
Ed-Tech can play a large role in closing this gap, especially for students who lack access to quality teaching and a robust learning environment. In the last few decades, EdTech has evolved from being a niche industry to one of the fastest growing in the world. The need to improve learning outcomes globally and the role that technology can play in supporting this goal is being increasingly recognized. While the integration of technology in education has become more visible, it is important that EdTech can provide equitable and high – quality education to learners irrespective of where they live or what their purchasing power is.
————————————————————————————————————————-
Like other businesses, if you too are looking to develop IT Solutions in e-learning industry, Mindfire Solutions can be your partner of choice. We have gained significant experience over the years working with Edtech Companies. We have a team of highly skilled and certified software professionals, who have developed many custom solutions for our global clients over the years.
Here are a few interesting projects we have done. Click here to know more:
Case study on site setup for selling online courses