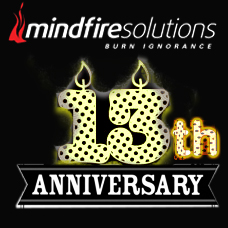 MAY I HAVE YOUR ATTENTION…
HERE IS A CREATION…
MY COMPOSITION..
AS A GRATIFICATION..
TO ALL MY FRIENDS , COLLEAGUES & NEAR & DEAR RELATIONS :):)
ON THE 13th YEAR COMPLETION…
A robust IT diversification
That's Mindfire Solutions..

From life being a bed of roses eradication..
Initially this journey was full of apprehensions..
A new reincarnation..
Difficult in digestion 😀
A shopaholic & chocoholic personification..
Became a workaholic identification..
"Burning Ignorance " became the new fascination..
Quality Assurance & Software Testing being my occupation..
Software engineering being my profession..
From Manual to Automation..
Nothing gives as much elation..
Than a bug citation..
I express my gratification..
To things around me gave motivation..
Conceptualization to simplification…
Real life illustrations..
Certainly gave me inspiration..
Thanks to my amazing team association..
This journey is worth appreciation..
That certainly gave me a new dimension..
that's beyond comparision..

Wishing all a sparkling mindfire celebrations..
On the 13th anniversary occasion..
Regards
Taleha Khan