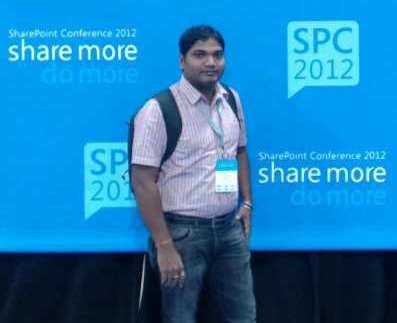 As a SharePoint developer, attending SharePoint Conference 2012 in Las Vegas from 12-15Nov 2012, was a unique opportunity to hear from experts from Microsoft and around the world, share their experience and knowledge on various aspects SharePoint 2013. . There were around 10,000 people from 85 countries attending the conference. As a Microsoft partner and one of the earliest companies to offer SharePoint development solutions, Mindfire Solutions made sure that we attend the conference and arranged for everything we needed. I really had a good time and an unforgettable Vegas experience.
Despite such a large number of participants, the organizers did a great job providing assistance to attendees through a number of help desks. On an average there were about 15 sessions per time slot (split between business, IT Pro, and Dev) so it did get confusing which session I should attend. The attendees came from mixed background which included developers, techies, vendors, business decision makers, business users and end users.
I attended several exclusive sessions and it really helped me gain a lot of knowledge on this new technology. Almost all the sessions were interesting and informative but few sessions helped me boost my knowledge in certain SharePoint areas. Those sessions are as listed below.
What's New for developers in Office 2013 and SharePoint 2013

Overview of Enterprise Social Networking

What's New in Business Intelligence?

SharePoint online

Migration of legacy data into SharePoint

SharePoint custom workflow development

 
In addition to session content, I got chance to access to Hands on Labs, as well as opportunities to meet with Industry experts including Microsoft Most Valuable Professionals (MVPs), SharePoint customers and many of our clients. There were around more than 200 exhibition stalls in the exhibition hall area. Few of our clients had their stalls as well. I was so delighted to see our clients having stalls in this prestigious conference.
In this conference almost everybody was so excited to know What's New in SP2013. Yes, there are many new features in SP 2013 and all are looks good. I am going to provide my comments and feedback for few of new functionality and features of SP 2013.
App Parts
App Parts is a new and very cool feature of SP 2013. In starting of the sessions, there were lots of confusion between app parts and web parts which get clarified later on. Mentioned below are few key notes of app parts and how it differs from web part.
In apps we don't have code behind. It's all HTML, JavaScript and jQuery.

You can deploy the app part as feature

There is a specific separate site for app parts. Whenever we are deploying the app, it gets deployed into the app site instead of the any particular site collection or farm. This is the major difference between app and web part.

 

App part uses its own site to store its data.

App part uses iframe to run when its getting added to any site collection.

App part doesn't have access to rest of the site as its running within the iFrame context where as web part does.

We can't add any farm solution web part into the office 365 site where as we can use app parts in the office 365 sites

The best use of app part is on cloud with office 365.

The concept of app part is similar to the app store of iPhone.
Workflows
SharePoint 2013 workflows are powered by Windows Workflow Foundation 4 (WF).SharePoint 2013 uses the windows azure as the new workflow execution host environment.The workflow execution engine now lives outside of SharePoint, in Windows Azure
Now most of the workflows are fully declarative which is workflows are no longer complied into the managed assemblies and deployed into the GAC. Instead, XAML files define your workflows and frame their execution.The SPD 2013 has been updated based on the end users demand.SharePoint Designer 2013 provides both a designer surface and a text-based workflow authoring environment. Additionally, you can develop workflow custom actions in Visual Studio 2012 and then import them into SharePoint Designer 2013, where they can then be accessed from the Workflow Designer. The best part is that, there are many more new workflow actions has been added based on end users demand.
Social and Collaboration
There are lots of improvising in social feeds which will definitely help users keep up to date with the people and content that they care about. The new Community Site feature provides a rich community experience that lets users easily find and share information and find people who have similar interests. Similar concept of twitter has been integrated with SP 2013 which will help end users to collect an aggregated flow of events, content, and activities to provide users with relevant and timely information. Apart from these, other features are similar to the sp 2010 versions of SharePoint.
Integration with yammer
Microsoft highlighted its social media features in SharePoint by its acquisition of yammer. There were few sessions about the integration of yammer with SharePoint.
Business connectivity services
Business Connectivity Services (BCS) enables SharePoint to access data from external data systems such as SAP, ERP, and CRM, in addition to other data-driven applications that are exposed through WCF services or OData endpoints. BCS in SharePoint 2013 has been improved and enhanced in many ways, including OData connectivity, external events, external data in apps, filtering and sorting, support for REST, and others.