Continuing with my previous post about managing social media during busy office hours, I am writing this post to make readers understand how social media tools can be used to reduce time effort and thus  effectively manage social media sites.
Let us start with a simple task. Have you integrated your Facebook, LinkedIn, Twitter accounts yet? These are considered to be widely used platforms and presence in these sites will help you gain that extra mileage. Check your account settings and integrate these sites today.
For people who have already completed the first task, let's go ahead and discuss some of the tools that will help you manage your social media efforts. You will find numerous tools available online to make use of but, let us target the ones that are free and easy to use. According to my view I have personally used a lot of tools like Hootsuite, SocialOomph, Ping.fm now Seesmic Ping etc. Out of these, I liked Hootsuite the most. So, let's discuss Hootsuite in detail so that you can get a feel of the platform and then try out.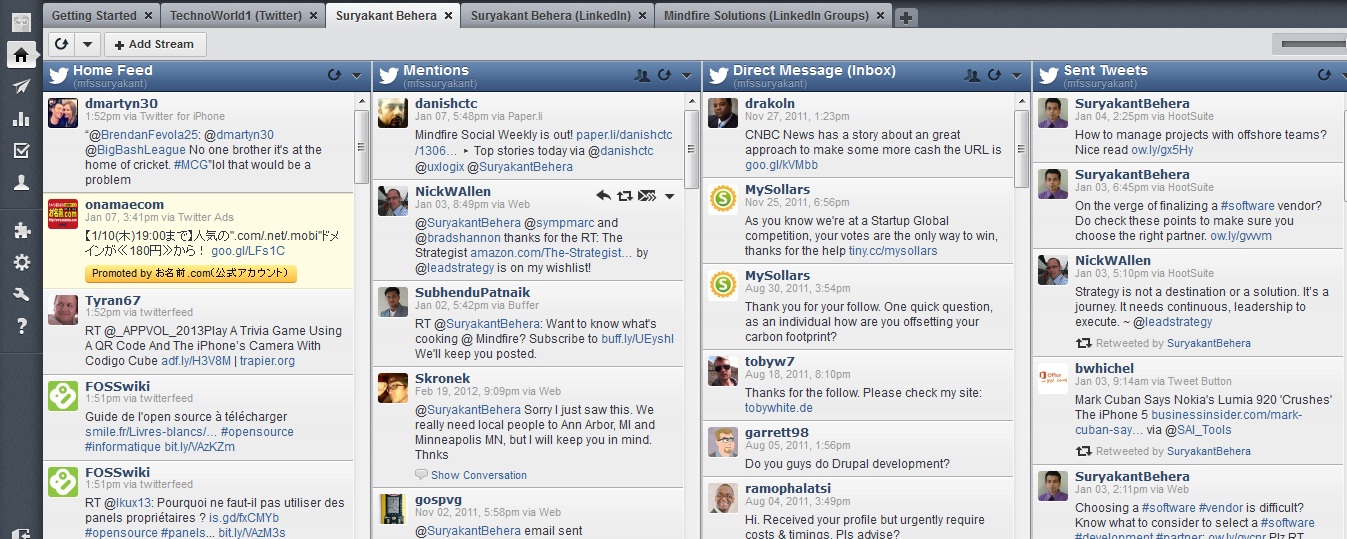 Hootsuite by far is the best tool that I have used for all my social media activities. You can easily add all your social media profiles like Twitter, Facebook, Google+, LinkedIn etc here. It creates independent tabs for all the profiles you add. After adding these to your hootsuite account there is no need for you to visit those sites again. You can keep track of updates, comments, mentions etc from this application. Hootsuite also allows you to do a lot of other jobs like tweeting, scheduling tweets, replying, re-tweets, follow, un-follow, commenting, monitoring Facebook pages and many more.
In social media it is always important to monitor your effort. Hootsuite also has this feature to track your efforts through its Analytics tab. You can use this feature to know which of your links shared has got you visitors and also the region from where he/she arrived. There are many other advanced features in Hootsuite but, those are paid services. Using Hootsuite will reduce your social media effort to a larger extent.
There are also other ways to promote your articles/blogs in the online world. We will discuss those in my next post. So, keep reading and do not hesitate to browse through the tools mentioned and choose your best one.
Author – Suryakant Behera