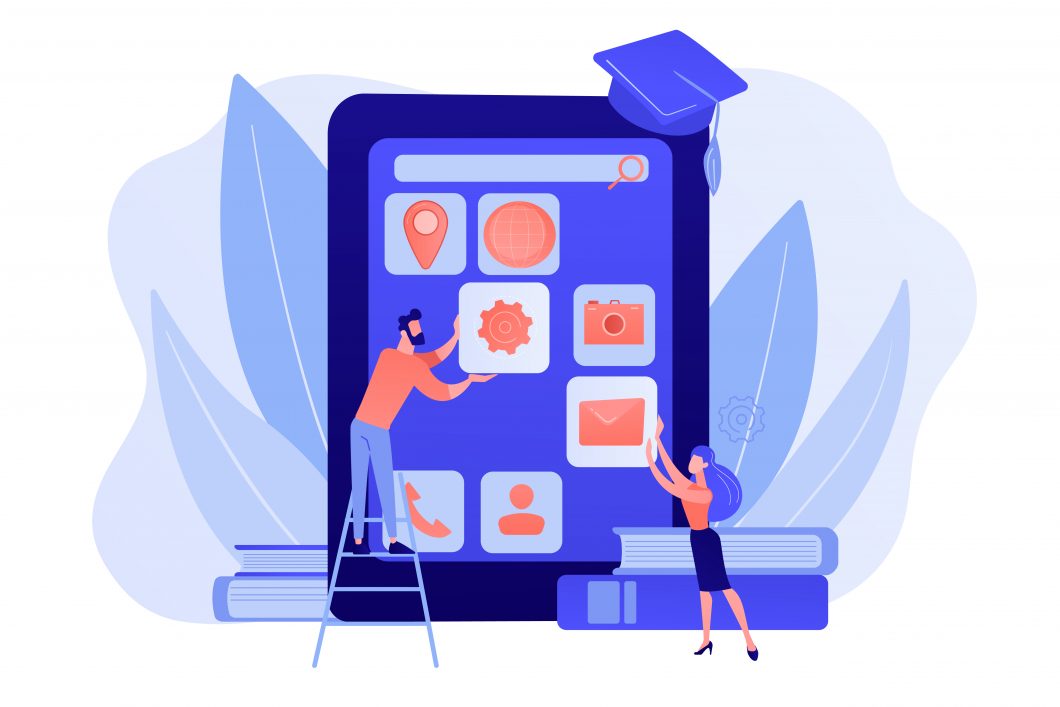 The Edtech industry experienced exponential growth in the past couple of years, largely because of the push to remote due to the pandemic. The global market size of e-learning applications was estimated at $197 billion in 2020. In the same year, Coursera witnessed 10.3 million new enrollments, which was 644% more than in 2019.
With the growing adoption of remote learning solutions, it is evident that the demand for e-learning applications will further increase. According to a study, the global e-learning market is expected to reach $840 billion by 2030.
Schools and universities can adopt e-learning applications to make their education more accessible while also increasing learner engagement.
In this article, we will look into different types of educational applications schools and universities can develop and explore the benefits of custom educational app development.
Types of Educational Apps to Develop
There are different types of educational apps that can be developed for various purposes. Some of them include:
Apps for Exam Preparation
Educational apps can be customized to help students prepare for exams by providing mock tests, quizzes, and other study materials.
Education App for Kids
These apps are specially designed to make learning engaging for kids by using animated videos, puzzles, games, etc.
Apps for Learning New Skills
Schools and universities can develop custom educational apps to teach their students new skills such as coding, web development, graphic design, etc. Coursera, Udemy, and Duolingo are some popular examples of such type of an app.
Apps for Teachers
These apps provide teachers with the tools that can help in scheduling, lesson planning, etc., and enable them to teach efficiently.
Benefits of Custom Educational App Development
Personalized Learning
Teaching a class can be a challenging task. Every student learns in a different way, and it is difficult for a teacher to give personal attention to each one of them. By leveraging smart technologies like Artificial Intelligence (AI), Machine Learning (ML), and Natural Language Processing (NLP), the educational app can be programmed to provide students with content that is tailored to their learning style and pace. Personalized learning helps students to understand a concept in a better way, which can consequently improve their academic performance.
Easy Access to Learning Materials
Educational apps enable students to learn anywhere, anytime. With mobile application features such as push notifications, content-sharing, and live streaming, educators are able to easily share course material with their students while maintaining high engagement levels.
This accessibility is especially beneficial for students who are unable to attend classroom settings. It promotes distance learning and eliminates the need to travel to institutes to attend lectures, saving valuable time and travel expenses. These benefits allow educational institutions to reach a wider audience.
Improved Communication
Another advantage of custom educational app development is improved communication between students, teachers, and parents. The app can provide a platform for students to communicate with teachers and parents, share their work, and receive feedback. Teachers can also use the app to send updates and reminders to students and parents.
Furthermore, educational apps could help students to solve their doubts by scheduling one-on-one sessions with their teachers according to their availability. This improved communication helps to keep everyone connected, which promotes a seamless learning experience.
Increased Student Engagement
Educational apps can also increase student engagement by providing students with interactive elements such as quizzes, challenges, and games, making learning fun while motivating them to study.
The engagement can be further increased by incorporating an AI-chatbot assistant that can solve student queries 24/7 and also connect them with the teacher if needed, resulting in better learning outcomes.
Improved Assessment and Tracking
The educational app can offer teachers the tools they need to track students' progress and assess their learning. For example, the app can provide teachers with options to prepare quizzes, tests, and other assessments that can be used to evaluate students' understanding of the subject. Teachers can also use the app to track students' progress over time, which can help to understand how well students interact with course material as well as identify areas where they need additional support.
Cost-Effective Solution
The development of an educational app is a valuable investment, and once the app is created, schools and universities can use it for an extended period. Additionally, the app can be updated regularly to ensure that it remains relevant and up-to-date. Schools and universities can reduce the costs associated with printing and distributing study materials, such as textbooks by replacing them with digital versions.
Conclusion
Custom educational app development can be valuable for schools and universities in the current times. The app development is a cost-effective solution from the long-term perspective that can increase student engagement, improve assessment and tracking, and lead to better learning outcomes.
If you are looking to leverage technology to enhance the learning experience of your students, consider investing in educational app development.
Developing an application can be an overwhelming task as there are various moving parts involved in the process. You can collaborate with an IT firm to drive efficiency in the development process and reduce your time-to-market.
Mindfire Solution is a leading IT firm that specializes in custom application development. We have assembled a team of expert professionals to create an interactive e-learning experience by infusing leading-edge technologies into traditional educational practices.
Visit Mindfire Solutions to learn more about our capabilities.