And before you come to a seemingly easy conclusion, let me be very clear. I am definitely not talking about Nestle's Maggi noodles which can be cooked in about just two minutes. So what could be the 2 minute innovation? Ever heard of 2MV (short for 2 minute video) as a daily reporting tool? Possibly NO! Allow me then to introduce you to the 2MV Habit that is religiously followed at Mindfire Solutions.
About the 2 Minute Innovation 2MV:
The 2MV Habit is a unique practice followed at Mindfire Solutions. This was exclusively designed to address problems that are typical to outsourcing/off-shoring/remote software development companies. The common problems pestering this industry are:
lack of visibility in true daily work progress,
absence of the human factor,
lack of synchronous communication owing to different time zones and
unavailability of rich communication possibilities (email and documents have their own limitations)
We call it the 2MV Habit because it is a daily practice wherein the developer records his daily progress in the form of 2 minute long videos that are actually screen-casts (videos of the screen) with the audio commentary by the developer. This could also include a little bit of code browsing as well.
So how does it differ from emails/documents?
The use of video/media differentiates 2MV from an email/document by creating software engineering artifacts that are rich in information. After some initial hiccups the developer realizes that while he can make a 2MV in 2 minutes, he would take around 5 minutes to draft an email/document. However, on the flip side, while the contents of an email/document can be scanned in a minimum 10 seconds time, it would actually take 2 minutes to go through a 2MV.
How the 2MV works?
Clients can log in to Mindfire Solutions' cloud based project management system with the credentials that are provided to them at the time of on-boarding. Successful login takes the client to the 2MV home page wherein all recent activity is listed as a stream of events. One can then view the 2MVs by clicking on the 2MV icon which renders a flash / HTML5 player and plays the video on the homepage. Comments can be made from the event stream itself. There are also options in the account menu to change the email preferences on new 2MV upload, note addition, transcription addition and resetting of password etc.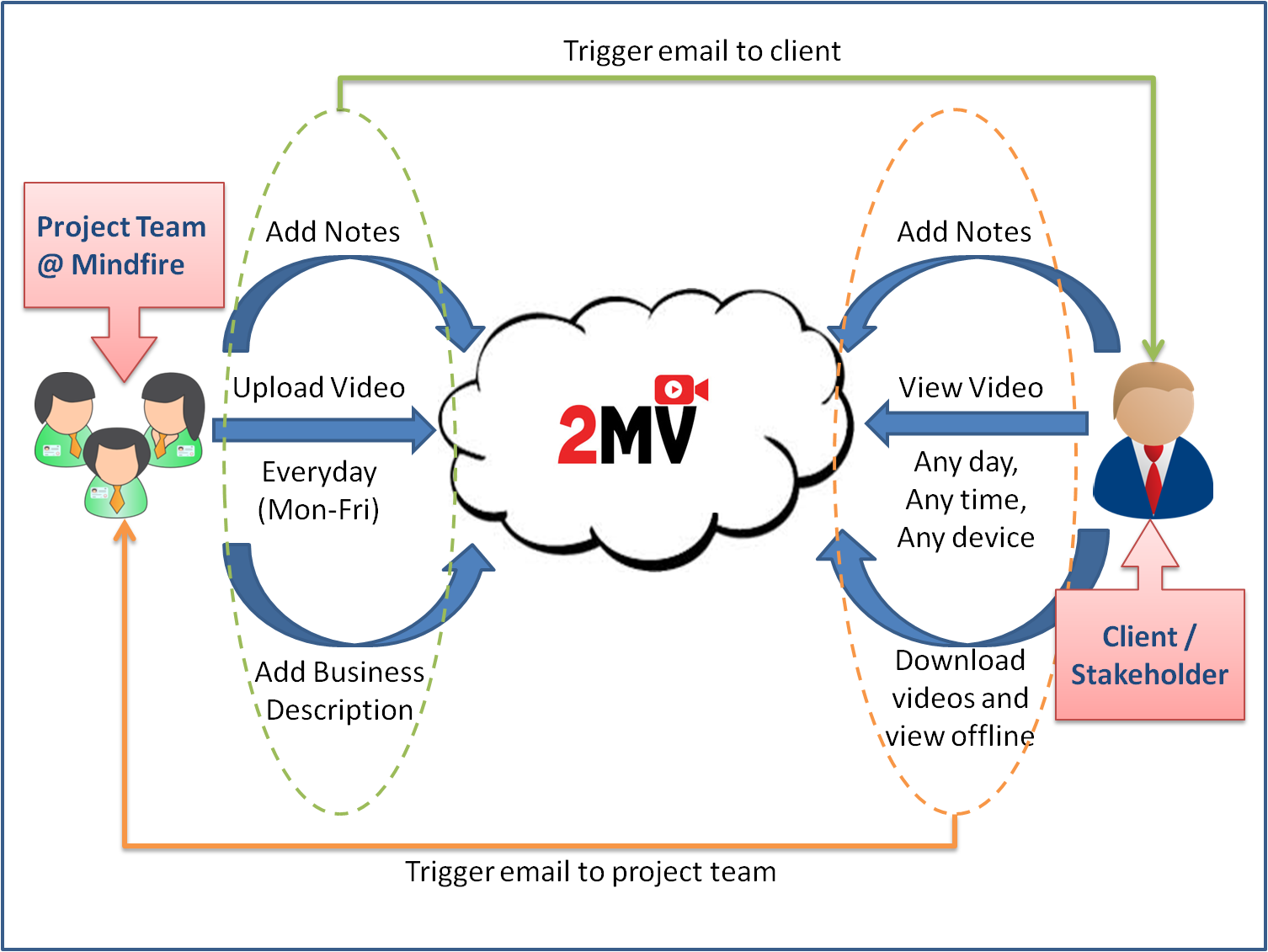 Benefits of using the 2MV Habit:
Giving demos daily helps the developer to view the work from the user's perspective
The developers feels accountable to produce demonstrable work every day
The human voice renders a personal touch and helps forge better relationships in a remote team environment
It also helps the developers bond better with the software QA testing professionals bringing in better coordination between teams
Easier, faster and better daily status reporting
Instills a sense of ownership in the developer as the 2MV carries their personal signature
Rich knowledge base with visible gradual evolution of software and codebase
Any misunderstanding with respect to requirements or specs is detected at an early stage and fixed accordingly
Easier, faster and better transition to new team members whether in case of attrition or scaling up the existing team
Better insulation from human risks in team
A 2MV experience:
Let's be honest. Everyone was not really enthusiastic when the 2MV was launched. As with just about anything that is new, there was some resistance to 2MV initially from one of the project teams. This was mainly because they were not comfortable recording the video (Ironically, they assumed it would take them more than 20 minutes to record a 2MV). Also they wanted to hang on to the traditional methods of email and online meetings with the client as they believed that they could email faster than record the day's work in 2 minutes. Before panning it completely, they were coaxed to give it a try, one last time. And then the rest is history. The client loved this mode of communication and decided to use this method instead of emails and meetings. This helped them cut down time spent on meetings. Finding a time suitable for both the development team and the client was again a hindrance, but the 2MV helped get rid of it. The developer could record his day's work before he left and the client could review it whenever/wherever he wanted to using any device (desktop/laptop/handheld). In this particular case (and as with most other cases), the client not only applauded Mindfire's effort but also gave valuable feedback that we incorporated subsequently.
For a company that is ONLY into offshore small team software development, Mindfire Solutions offers its clients this unique status reporting tool that not only adds a personal touch but is also a rich repository of evolving project information. One of our clients commented that:
"We'd just like to say what a great idea the 2 minute video is in maintaining a good relationship between us and Mindfire. It is often difficult to build a personable relationship over such a distance but we feel this definitely helps! Seeing the developer's computer screen brings things closer and enhances trust and support."
Yet another client found 2MV to be an interesting concept and was of the opinion that:
"A 2-min video is best for more general info and UI demonstration."
As for our developers, most of them appreciate Mindfire Solutions for this initiative as it has helped them better their communication skills. The fact that the client can add comment in the 2MV itself makes the communication very clear and less time consuming. One of them said, "I have also spotted some issues in my code while making the 2 MV at the EOD. So, it's like testing the whole thing you have worked on before you leave for the day :)"
And when I asked another developer how the 2MV is a mutually beneficial initiative he said,
"It helps to make changes on the work from the beginning as client provides feedback on the work from the scratch level where as in text emails client sends changes/fixes only after seeing the complete task on stage and its sometime difficult for the client to visualize the work from text and provide feedback. Also it helps the client in decision making whether or not to continue/pause the current functionality and jump to some urgent fixes."
As 2MV is increasingly becoming popular as a project status reporting tool, it would not come as a big surprise if clients begin to choose this as a preferred mode of communication over email and Skype. We surely live in interesting times!
(N.B. : Mindfire follows small team software development very seriously and there are many such practices at Mindfire Solutions. Watch this space for more innovative techniques/processes practiced at Mindfire Solution. We use technology to be efficient!)